Termites and ants cause billions of dollars in damage to United States homes, but there are many differences that set them apart. Even though both are considered pests, there are different approaches and methods to deal with them correctly and efficiently.
It's not always easy to know which insect is causing the damage and eroding the value and safety of your property, but in order to fully manage the pests you first need to learn how to recognize them.
With this idea in mind, we have the perfect list that will help you distinguish termites from ants and then make the best decision about the next steps you need to take to eliminate them. Let's go!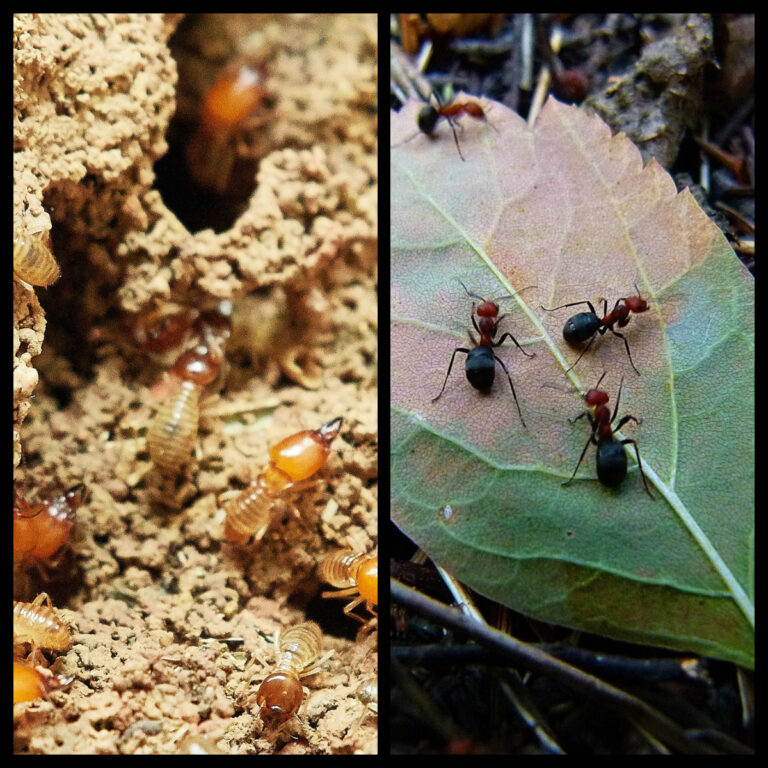 To the untrained and inexperienced eye termites and especially carpenter ants might look the same. Depending on the species some ants such as the mentioned carpenter ones are often mistaken for termites because they cause wood damage and have winged specimens while reproducing. 
Even though no pests should be taken lightly, let's see what the main differences between termites and ants are that might help you choose the best elimination method.
Termites and ants might look similar but if you have the opportunity to capture one using traps you will notice a well-defined waist in ants and quite a rectangular body in termites. Termites are usually described as wider-body insects while ants of any kind have a segmented body and are pinched in the waist.
If you are fortunate enough to capture adult specimens of any pests before the considerable damage is done you can take a closer look at the small antennae on the head. Ants always have bent or elbowed antennae, while termites have straight antennae. This detail, even though it's quite small, can help you determine what pests you are dealing with.
Most of the time if you see a lot of insects and wonder if you have ants or termites the answer will be ants. Why? Because the termites will often hide and cause damage in walls, wood, and construction beams without being seen. 
In addition, the termites are lighter, almost translucent in color while ants usually have reddish or black bodies and heads. With all of the other features mentioned on our list, it will be easier to distinguish termites from ants.
You might not know it, but some ants and termites have 4 wings. This feature can help you make a difference between pests, and reveal what you are dealing with. Termites have proportional and equal wings that fall off easily, which means that you have termites if you see a lot of discarded wings around your home.
On the other hand, ants have wings that are not the same size considering their back wings are shorter.
This feature might be less significant for the initial categorization of pests in your home, but it's good to know that ants live a significantly shorter life than termites. While both create colonies and have the queen for reproduction the ants live a few months on average. On the other hand, the termite queen can live for a few decades and the rest of the termites for a few years, meaning one colony can cause considerable damage to property and stay there for decades.
Some ants such as carpenter ants will damage the wood and they are most of the time compared or mistaken for termites. But even though both species damage the wood, they don't do it in the same way or for the same reason.
Termites eat wood and will attack anything based on cellulose. They consume the wood and create elaborate but rough tunnels filled out with mud. So, if you notice mud tunnels and hollow wood you are dealing with termites.
Carpenter ants, on the other hand, build nests in the wood and don't consume it. So, when carpenter ants dig out the smooth tunnels they leave small residue or piles of sawdust behind.
Learn about the most common diseases that cockroaches can carry and spread to humans. Find out how to prevent and control cockroach infestations to protect your health and home.
Read More »
Discover the most efficient ways to get rid of crickets from your home and garden, and eliminate the pests from your home fast.
Read More »
Discover the best moth traps on the market and repel or completely get rid of moths faster and more efficiently.
Read More »
How to Get Rid of Termites and Ants?
Now that we know how to differentiate ants and termites, you might be wondering what is the best way to get rid of the infestation fast. One thing is for sure the best way to deal with such hazardous and persistent pests is to call the exterminators. The professional teams have the experience and the tools needed to deal with any kind of pests you might have in your home. So, if you do notice any signs of damage or see adult specimens of any insects make sure to contact them.
In the meantime, there are some ready-made solutions on the market that can help you manage and control pests. 
Here are a few recommendations for ants and termites:
While it's not easy to compare, ants are known to be much more aggressive and persistent than termites. If it comes to resources and nest defense the ants are much more likely to wipe out entire termite colonies.
Both termites and carpenter ants are known to cause considerable damage in homes, but overall the termites are faster and will deteriorate the construction more efficiently. They are one of the most destructive insects and cause billions of dollars in damage each year.
Unlike termites that consume the wood carpenter ants eat other insects and high-fructose items. They are attracted to sweet things such as honey, sugar and syrup, and food leftovers, but they will eat smaller insects as well or drink the honeydew when needed.